Gaming is not particularly about grinding and getting on to the best level and having a competitive thrill. Some games are just to make you calm down and stress relievers. The best category to jump on here is the idle games for Android. These games do not require any kind of problem solving or tactics based which require a lot of your brain.
Also Read: How to play Android Games on PC
These idle games are designed in such a manner for a user who is not looking to spend much time on the game. For most of the games in the market, there is so much competition and people are playing to level up and grinding every time to be the best. These idle games for Android don't require much effort or skills. Most of them are basic tap to play titles without any extra functions.
Idle Games For Android
AdVenture Capitalist
This is one of the best idle games for android with a typical storyline of making money and growing your business empire. You don't need to be active every time to make money in the game to level up. You need to set everything to make sure your business is generating your passive income. This feature of the game makes it one of the best in the series.
The functions and options are fairly easy. You can hire employees in the game and put them to work. If you've ever wanted to own a business and work accordingly, this is your best chance. You can also grow by attracting the Angel Investors which will help your business fly and take it to the next level. Other features include the time-limited events in the game. Since the game is free, there might be a certain amount of Ads.
Fallout Shelter
A minimal idle game with a unique concept for gamers without having to look over everything. You need to create an underground shelter for people and help develop the base. Multiple tasks can be performed including the people who can for you and help you build the basement living for your people. Being an idle game, you need to set everything and then leave it as is to let it grow on its own.
The game makes you an overseer and you can look after every tine detail in the game including who goes in or out, what can you create for your people, and help them survive underground. The game is quite popular with millions of downloads on the play store with thousands of reviews received by players worldwide. If you've ever wanted to build yourself a human replica empire, here is your chance.
Almost a Hero
Almost a Hero is an idle RPG Clicker which might be a little different than your regular idle tap games. You need to engage yourself a little into the game which is fun for some gamers. Some people can't stay with the fact of playing a game without doing anything but not too much. This game might be the best for them. As the name says, you cannot develop your character and grind to become the best hero in the game. You can 'Almost' be the hero to build in the game.
The game is filled with missions and you get to choose from 15 heroes. The rest is up to you how you can develop and compete in the missions to succeed. For people looking for perfect idle games, these might not fall into the category and you can look for the others in our series. The game has millions of downloads on the play store along with thousands of positive reviews on the play store.
Bitcoin Billionaire
This was one of the most hyped games when it was launched around the Bitcoin trend. As the name suggests, you can grow your bitcoin profile in the game and rise high to become a billionaire. It was one of the most popular idle clicker games for Android back in the day. Well, the bitcoin trend might be lost but this idle game persists to be one of the best tap games.
You can invest in bitcoins in the game with a tap and watch your earnings go high and you becoming a billionaire. As you grow, you can build up your portfolio as high as you can and upgrade your surroundings. You can makeover your character from the money you earn along with the room you're working in. A change of scenery is always helpful to keep your mind fresh.
Clickpocalypse II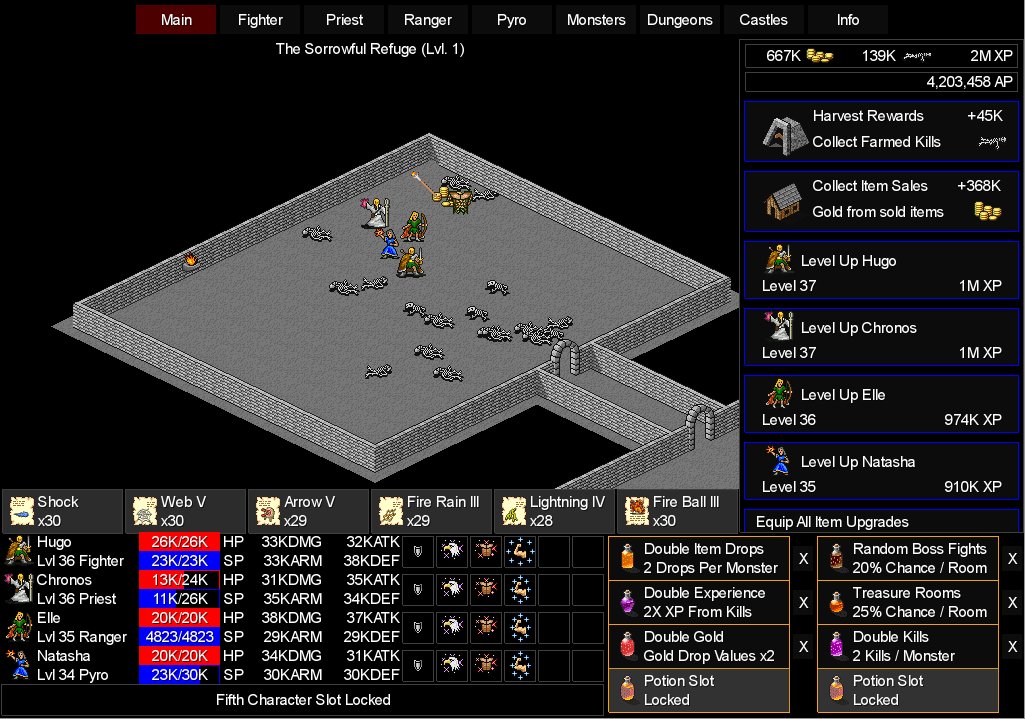 This might not be one of the best graphic games in our idle games list but the options players get to choose from are endless. The concept of the game is unique itself with a lot to take in for just an idle clicker game. You have a lot to work within the game including leveling up and upgrading your player.
You need to create a party of players and choose to fight evil opponents in the game to survive the dungeon. This might go a little above for just an idle clicker game. You need to fight your way out while finding items and upgrading your abilities. There's an option to loot dungeons in search of loot to get some cool achievements in the game. Additionally, you can play in both horizontal vertical modes in your device as the developers have enabled the feature.
Cookies Inc
Ever wanted to bake cookies? Here's your best chance at a virtual cookie simulation game which has done most of the work for you. Apart from creating your business empire by baking cookies, you can set everything on automation including auto clicks which will do the work for you while you're out. This is another common idle clicker in our series which is popular among the users.
Another good side of the game is the limited Ads which makes the game even better. While you should support the creators through watching Ads, sometimes it becomes irritating for some users which is why they're an option to limit the Ads shown to you. Create your dream bakery and build the biggest cookie business empire anyone has ever seen.
Egg, Inc
People might be familiar with the basic concept of this game. A casual idle clicker game where your main goal is to build an empire starting from chickens and a big farm. You can put resources to work when you're offline but you need to work a little in the beginning. This game might get a little boring after a while due to the same concept but that's what the idle games are known for. You need to put very minimal effort to grow your character in-game.
What is interesting about this are the achievements. The game has Google Play achievements which can level you up on Play Games. Rest the gameplay might be familiar to you. You need to build your farm and hire employees to do work while you're offline. Generate profits and supply to grow your business in this industry.
Idle Miner Tycoon
According to the name, this is a mining simulator where you need to spend a few clicks initially to earn a few bucks in the game and level up. Rest being the idle clicker concept, you can put your earned money to good use and hire a good manager for your mine and grow your mining empire. Upgrade your stuff and reach the top.
There are more than 20 mines available in the game you can choose to mine from which contains over 15 resources that can be sold in the market. Mine lots of things and get on working after hiring a manager and becoming the ultimate mining tycoon in the market.
Om Nom: Merge
This game comes from the popular cut the rope series of Om Nom. While the name is the same, this one has been converted into an idle clicker game which is gaining popularity worldwide. The mechanics of the game are quite simple and you don't require high science to understand and play the game.
Om Nom has a lot of fruits to eat and he cannot do that alone. You can help him by bringing more of his friends to help him out. Level up the characters in the game and by eating more fruits to gain coins. Deploy more of Om's friends and help him eat as many fruits as you can. You can also merge the creatures to create a big creature make your work even easier. The game is quite satisfactory for players looking to chill and freshen up.
Idle Theme Park Tycoon
Creating your own theme park has never been easier. This is the last game in our idle clicker list with one of the most interesting concepts. You need to do various tasks to run your theme park and make it the biggest one in the market. You get to manage everything in your theme park to make sure nothing goes wrong which might interfere in the process.
You can hire a security guard once you start making enough to make sure the environment is friendly for the customers. You can create some interesting attractions in your park to bring in more customers to expand your business. Add new rides, do proper marketing, and grow your theme park to another level. Hire employees to make your task even easier and enjoy the fruits of your labor.
Frequently Asked Questions
What does idle game mean?
Idle games are games where you don't need to grind to level up. You need to just click on your screen to play the game and level up. There is no science behind the game and competition is NIL. People engage in idle clicker games to have fun when they're bored.
Why are idle games so popular?
Idle games make you feel the sensation of winning and losing at the same time. You get to win without having to grind too much and just by clicking on the screen. Some of the idle games are quite satisfying for people which can be a stressbuster.
Are idle games good?
Yes, idle games are quite good depending on the genre you're looking for. There are all sorts of categories in idle games you can choose to play. It's up to you what you want.